Mighty Animal Dog Toys
Made of durable and flexible materials
No hard edges
Machine washable (air dry)
Floats in water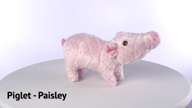 0 reviews
Mighty Animal Dog Toys
Piglet - Paisley
Feel free to wallow in the mud with this cute guy - he can take it! Your pup will LOVE Paisley Piglet!
For Dogs: All Sizes
Size: 13" x 4" x 7"
Squeakers: 1
Dura-Scale: 8
Leopard - Lenny
When your pooch adopts this Leopard cub, they'll have a friend for life! During sleep or play, Lenny will be there.
For Dogs: All Sizes
Size: 18" x 6" x 6"
Squeakers: 1
Dura-Scale: 9
Hippo - Herb
Bring out the "wild" in your animal with Herb Hippo! He may look cute, but he's fiercely strong and capable of holding his own against your wild canine!
For Dogs: All Sizes
Size: 12" x 4" x 7"
Squeakers: 1
Dura-Scale: 8
Jr. Elephant - Ellie
A MIGHTY elephant makes an excellent companion for your MIGHTY pooch! Ellie plays a great game of "tug" and is oh-so-snuggly at night.
For Dogs: Under 15 lbs
Size: 9" x 3" x 4"
Squeakers: 1
Dura-Scale: 7
Durability is created for each toy with multiple layers of flexible materials. Compared to other toys, Mighty Dog Toys have no hard edges. The result is that these toys do not promote chewing - great when you're trying to discourage chewing habits. These toys may seem plush on the outside, but all the durability features are internal making these toys soft, yet MIGHTY strong. These toys are machine washable (air dry) and float.
Warning: Your dogs safety is "Your" Responsibility. The Mighty Toys are designed to be play toys and not chew toys. No Part of any toy should be ingested. Injury may result.
Sorry, there are no reviews.
Why don't you
write one
?
---