Leerburg
»
Training Gear
»
Leashes
»
Amish Leather Leashes
»
Single-Ply Leather Obedience Leashes
Single-Ply Leather Obedience Leashes
Single-Ply
3/8" wide
Multiple lengths
Comes in Black or Brown
This product has moved!
See the Leather Drag / Obedience Leash page.
Product #5138O
---
0

out of 5 stars
based on

0

reviews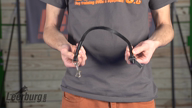 5 out of 5 stars
I have several of these that I use for drag lines for foster dogs. They work great! The leather is beautiful and supple- very nice. I am very pleased with this product!
5 out of 5 stars
We are training for rally and agility and this 3 foot lead is wonderful for that with nothing to snag. Relatively soft leather. Strong. It's being used on a sheltie. I also have the six footer which is great too!
Leather Obedience Leashes
The Leather Obedience Leash is 3/8" or 1/2" wide with multiple links. Both widths are available in two colors.
This short, leather drag leash is perfect for those times when a full length leather leash isn't necessary. We like the shorter ones for precision heeling work with a prong collar while transitioning to off leash obedience work. It is light enough that the dog doesn't notice it and it's strong enough to use for a correction if necessary. The shorter lengths make it easy to grab and it's just "long enough" without having a lot of excess to get in your way.
Perfect for agility training; it doesn't interfere with your dog as he navigates the course but gives you a way to help him if necessary.
The Leather Obedience Leash is also good when you need a 'handle' on your dog around the house. It's useful for helping you keep your dog under control at the door and while going up and down stairs, but short enough to not get tangled around furniture and people.
Our Leerburg dog training leashes are the finest leather dog leashes that money can buy. They are made from soft Latigo leather. You will never find a leash of this quality in any pet store or dog food warehouse.
You can buy a cheaper leash at any store in your town, but you will NEVER buy a better quality leash anywhere.
Check out our Equipment Page to see other hand-made leather items including puppy leashes, traffic leashes, collars and more!
Not recommended to be left on dogs unattended as they can easily chew this leash.
Read why our Amish-made leather leashes are the best dog leashes in the world!
Sorry, there are no reviews.
Why don't you
write one
?
---