Neoprene Sleeve
Designed to be worn under a soft or hidden sleeve
Helps to prevent excessive bruising
Made for either right or left arm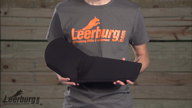 0 reviews
Neoprene Sleeve
This Neoprene Sleeve is designed to be worn under a Beginner Soft Sleeve, Intermediate Soft Sleeve or a Hidden Sleeve. The Neoprene Sleeve is designed to give that added bit of protection needed in bite training or protection training for either a dog that is advanced in bite training or a inexperienced dog who has an extremely strong bite. This sleeve helps to prevent excessive bruising or the accidental break in the helper's skin from a sharp canine tooth.
Please note that this sleeve is NOT to be worn alone and is only for added protection under another sleeve. This neoprene sleeve will not prevent all bruising or injuries that may be sustained during dog training. Made for either the right or left arm.
Sorry, there are no reviews.
Why don't you
write one
?