Puppy Tube Feeding Kit
Includes 1 syringe and 1 feeding tube
Feeding tube is 16 inches long (41cm) and approximately 3/32 inches (2.7mm) outside diameter
Syringe is 35cc
Feeding tube has a closed rounded tip with 2 side port 'eyes
Product #PUP0003001
---
5

out of 5 stars
based on

2

reviews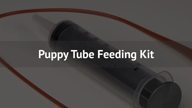 5 out of 5 stars
After viewing the feeding tube you sell versus what I received from the Vet, they obviously gave me something so small that I literally have to tube feed twice to give him what he needs in one feeding. Needless to say, I'm pretty pissed off with the Vet and am grateful you carry these products. You're Aces in my book.
Puppy Tube Feeding Kit
Each kit includes 1 syringe and 1 feeding tube.
Feeding tube is 16 inches long (41cm) and approximately 3/32 inches (2.7mm) outside diameter. It is best to store your feeding tube and syringe at normal room temperature. In colder temperatures the feeding tube will become rigid and stiff. At body temperature, the tube becomes softer, resilient, and completely flexible. Syringe is 35cc and attaches to the integral funnel end of the feeding tube. The opposite end of the feeding tube has a closed rounded tip with 2 side port 'eyes'.
Feeding Tube And Urethral Catheter
Size: 8 Fr (2.7mm)
Length: 16" (41cm)
This is the same syringe and feeding tube that we use here at Leerburg® Kennels.
Here is a link to our formula for tube feeding and bottle feeding newborn puppies: Bottle Feeding and Tube Feeding Recipe.
If you are in need of assistance in tube feeding or bottle feeding your pups we recommend contacting your local vet and purchasing our Whelping Puppies DVD.
Both the feeding tube and syringe are individually packed in sterile packaging and are for single use only. It is not recommend to resterilize this equipment.

5 out of 5 stars


I bought this around 2009. I thought I might use it back then but my female didn't have an issue feeding her puppies and I used the Playtex disposable bottle which seemed to do the trick. Well, I finally had to use this tube feeding kit April 2015. I forgot thaat I had it when I was frantic looking for something better to bring out a fading puppy. My dam had a large litter and more puppies than her teats. So some puppies are not getting the full nourishment from momma and the bigger ones are pushing them out. It was just luck I found this in my dog supplies, and quickly went to use it. It is so far saving my newborn puppy's life. She is coming out of it, and back into the litter group. I will be following Ed Frawley's botte feeding program for them to continue to gain weight. Thank you for this kit. So glad it survived moving and in storage all these years!




5 out of 5 stars


Ed,

After viewing the feeding tube you sell versus what I received from the Vet, they obviously gave me something so small that I literally have to tube feed twice to give him what he needs in one feeding. Needless to say, I'm pretty pissed off with the Vet and am grateful you carry these products. You're Aces in my book.

Thanks Again,
Kristina