Plastic Heating Pad
Pads stay at 98-101° perfect for newborn puppies
Made of high-impact plastic
"Ribbed" design eliminates "hot spots"
Contains built-in thermostat
Great for older dogs in cold weather
Better than a heat lamp
Made in the USA
Product #BED0053001
---
5

out of 5 stars
based on

4

reviews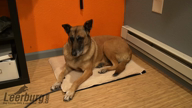 5 out of 5 stars
I ordered one of the plastic heated puppy mats for my litter of 5 day old mals and they just love it. It does not put off a lot of excessive heat so my big girl does not get hot and can stay in the whelping box. The cord is well protected and no one has wanted to chew on it. I ordered the medium size and it leaves enough room in the whelping box in case they want to get off of the heat.
5 out of 5 stars
I received a heated mat for my lil old arthritic dysplastic adopted senior. It's damp and cool today and I fired up that electric mat. Within 20 minutes it was slightly warm and its intended user, Oliver, was sitting with his butt on the warm spot and his front feet on the carpet. Now he is lying on it. He knew immediately that it was for him, or the non-arthritic dogs just weren't interested; I don't know. But he is in heaven. He has gone from butt-sit to lying like a starfish to lying with hips on and head off.
Plastic Heating Pad
Here is what every Leerburg litter has in their whelping box the day after they are born. This product is 100% better than a heat lamp. The pups crawl on and off when they need heat and the moms don't over heat from a heat lamp. The pads stay between 98 and 101 degrees - perfect for newborn puppies.
These whelping room heating pads are made of durable and break resistant of high impact plastic material. Unique "ribbed" design on bottom side eliminates "hot spots" by leaving air space, yet won't collapse to pinch heating element. Waterproof design can be used indoors or out. Heats to approximately 98-101º and will not fluctuate. Contains a built-in thermostat to heat at constant temperature. Fully grounded and cord is wire covered for safety.
It is also great for older dogs in cold weather - keeping your older dogs warm is key to good health in the cold months. Put the heating pad in the dog's dog house, in your garage or in the kennel when it gets cold and watch how your dog's attitude improves. It is also a comfort item for older dogs with weak hips and bones.
Made in the USA.
These heating pads have a 1 year manufacturer's warranty.
The heating pads are not available in 220 volt. The manufacturer states that even if you use a converter, the 220 volt electricity will burn up the heating pad element inside because it is just too much power. We are sorry that we cannot offer these heating pads internationally.
Measurements
| | | |
| --- | --- | --- |
| Small | 13" x 19" | 35 Watts |
| Medium | 17" x 24" | 60 Watts |
| Large* | 22.5" x 28.5" | 85 Watts |
*Ineligible for shipping specials
How We Handle Our Heating Pads at Leerburg
We don't put the heat pad in our whelping box until after the litter is born.
Our whelping boxs are large enough (5 foot by 5 foot) so Mom can lay off to the side of the heating pad if she wants (and they usually do). Puppies will crawl on the pad when they are cool and crawl back off when they feel like it.
Our approach to these pads is to put them in the whelping box and allow the puppies to determine for themselves when they need it.
Last week a house burned down in Minneapolis when a heat lamp that was being used over a whelping box in the garage caused a fire when the owners were gone. The house was a total loss. This never would have happened had the dog owners used one of these pads.
Need I say more? The picture above shows a Leerburg litter. Mom feeds pups off the pad while 2 pups are asleep on the heating pad. This is not a good product, it's a great product! We don't add the pad until after the birthing process because some dogs chew too much and the pad does have an electric cord. We have never had a female chew a cord when the pad is added after the birth. We drill a hole through the side of the whelping box and extend the electric cord through that hole. I will never whelp a litter of pups with a heat lamp again.
For those people who have older dogs or those who want to add heat to a dog house on those freezing cold winter days - this is a perfect option. The dogs love it!

5 out of 5 stars


Hi,

Just a quick note - I ordered one of your heating pads a couple weeks ago. It is built better than I had figured & my ole PSD really enjoys it during our cold nights. She gets up and around much better.

Thanks
Mark




5 out of 5 stars


I won received one of these heated mats in an auction, for my lil old arthritic dysplastic adopted senior.

OMG!!!!

It's damp and cool today and I fired up that electric mat. Within 20 minutes it was slightly warm and its intended user, Oliver, was sitting with his butt on the warm spot and his front feet on the carpet.

Now he is lying on it (now that it's warm all over). He knew immediately that it was for him, or the non-arthritic dogs just weren't interested; I don't know. But he is in heaven. He has gone from butt-sit to lying like a starfish to lying with hips on and head off.

I'm going to have to post to the board, but I will wait until tonight so I can watch his movements, etc., and see if there is also visible increased flexibility.

But whether it does improve his flexibility or not, it has made him a very happy comfy dog.

He uses it just the way a human would use a heating pad!

Sometimes one hip is on the heat, sometimes the other, sometimes his upper body is on the carpet and his hips on the heat......

I could almost cry that I didn't have this for all the seniors with OA I have ever had!




5 out of 5 stars


Hello,

Wanted to share pics of my first litter! I sewed a cotton cover for the heat pad. My puppies are heavenly and warm. It is so amazing to me how they crawl on and off for comfort!

We ordered the heating pad just days before she whelped. We plugged it in and were puzzled that it was not "hot" ... but our kitty discovered it right away and made himself at home. "It must be working..." we said, reading and re-reading the directions.

Being a little skeptical, I had purchased a heat LAMP, just in case. Ten puppies... and starting out with the heat lamp until I could call the company for reassurance... we could not be more pleased (and COOL).

We are thrilled and so happy with our heating pad and the customer service we received at Leerburg! Thank YOU!

Regards,
JudyLyn






5 out of 5 stars


I ordered one of the plastic heated puppy mats for my litter of 5 day old mals and they just love it. I looked for a reliable product and found it on your website. It does not put off a lot of excessive heat so my big girl does not get hot and can stay in the whelping box. The cord is well protected and no one has wanted to chew on it. I ordered the medium size and it leaves enough room in the whelping box in case they want to get off of the heat. Your ordering staff was very helpful when I called and they helped me with every detail. Thanks so much for providing top products and such polite people to help me with selection. Below is a picture of my girl admiring her work and the babies fast asleep on the pad!

Julie




---