Leerburg
»
Training Gear
»
General Dog Gear
»
Harnesses
»
Leather Tracking Harness
Leather Tracking Harness (No Handle)
Comes in Black or Brown
28" - 38" Girth
Soft Latigo leather
Chrome and nickle-plated steel
Amish made
This harness can also come with a handle here.
Sorry, this harness is no longer available.
Product #5102
---
0

out of 5 stars
based on

0

reviews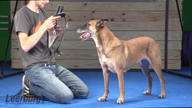 5 out of 5 stars
I purchased this harness without the handle over 7 years ago and it is still going strong on my second dog that pulls like a train while on a trail. I will be purchasing a smaller one for my female here shortly. Thanks!
Leather Tracking Harness (No Handle)
Our Leerburg dog training harness are the finest leather dog harnesses that money can buy.
These harnesses are made from soft Latigo leather. You will never find a better quality agitation or tracking harness in pet stores. Straps are 1" wide by 3/16" thick. Also see our light leather harness.
The hardware on our leather dog tracking and agitation harnesses are made from the highest quality chrome and nickel plated steel. All of our leather harnesses are sewn and then pop riveted to insure the highest security available. This is very important in dog training where a broken harness can cause accident or injury to you or your dog.
You can buy a less expensive harness at any store in your town, but you will NEVER buy a better quality harness. Most experienced dog trainers know that you get what you pay for!
The tracking harness is designed to fit almost any size working dog. The leather is the finest you can buy. It is flexible and will not rub or wear into the skin of your dog. In addition it has a padded shoulder straps to protect the dog in a long track. There is a lightweight belly-plate that is not padded. We designed this tracking harness to be comfortable and as light as possible with a leather harness for longer tracks.
You can have the plate and o-ring be on top of the dogs back or under the dogs chest; it is your choice. Some trainers prefer the long line to be under the dog and come out between the dogs back legs. This helps in training tracking dogs to keep their head to the ground. Other trainers prefer to have the plate and o-ring be on top of the dogs back and have the track line or long line come off the dog behind the shoulder blades.
Our tracking harness is not recommended for use as an agitation harness. It can be too light for hard hitting dogs and there is no chest plate on the leather tracking harnesses. This harness was designed to be lightweight and comfortable for tracking.
This design was copied from a tracking harness used by the RCMP in Canada. The harness does not restrict the air flow of the dog in any way. This is an extremely important feature on a tracking harness during long tracks where the dogs need all the help they can get.
The main difference between an agitation harness and tracking harness is that an agitation harness has a padded breast plate to cushion the dog when it hits the end of the line while doing protection work. The dogs need this cushion to absorb some of the shock of a tie out. This breast plate causes too much of an air flow restriction to be used in long police or Search/Rescue tracks. An agitation harness is also too heavy for long distance tracking.
*Our Amish leather products are made with American-made leather that is stained using natural oils and dyes. There is a possibility that some color may transfer on some of these leather products. We recommend that you use discretion when using this product with lighter colored clothing.
***Please keep in mind when ordering that all of our Agitation Harnesses are handmade. We try to be as exact as possible with the sizes, but variances do occur. If your dog is close to the smallest or largest girth size, please call or email with your dog's exact girth measurement and we will do our best to find a harness perfect for your dog in the color of your choice.
Looking for a leather agitation harness?
Adjustable girth strap is 1" wide X 3/16" thick
Fits a 28"-38" Girth

What is girth?
Girth is taken from the widest part of the dog's chest behind the forelegs.
This harness is not designed for protection training: agitation, bite work, or any biting dog sports. If you use this harness for any of those purposes, the harness may break, resulting in an accidental dog bite. Leerburg cannot be held responsible for misuse of this harness or any of the products we sell. If you have an interest in training protection work, we recommend you consider our Leather Agitation Harnesses designed for this type of training.
Sorry, there are no reviews.
Why don't you
write one
?
---